About Us
Sterling Rose Transportation began in April 2005 as Sterling Rose Limousines. Formerly, Cloud 9 Limousines, the named was changed to reflect new ownership and a determination to be the best chauffeured transportation company in the Temecula Valley. While many names were considered, Sterling Rose was chosen as a symbol of class and elegance. The Sterling Rose, a lavender colored rose is also the favorite flower of founder Heidi Levin, who carried them down the aisle at her wedding. Sterling Rose chauffeurs wear lavender shirts and ties as a symbol of the flower color.
Through several acquisitions, the company expanded its territory into San Diego and Los Angeles and also shifted its focus to corporate transportation, including meetings and events. As a result, in April 2009, the name was changed to Sterling Rose Transportation.Although Sterling Rose continues to be a full service chauffeured transportation company, the growth continues to come from the Meeting and Events industry with strong relationships with area hotels and destination management companies. As we continue to grow, we are very proud of the fact that we are "Large Enough to Handle the Job, Small Enough to Care About You."
Sterling Rose was named LCT Magazine National Operator of the Year for 2007 in only our third year of operation. We were also named Limousine Digest Operator of the Year for 2010-2011. Winner this award by both publications is something very few companies have accomplished In addition, the company was awarded the Sterling Business of the Year Award by the Temecula Valley Chamber of Commerce. We continue to set our standards high and offer the best service possible. Try us once and we think you will agree.
Steve Levin - Founder and President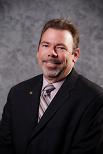 Steve Levin is no stranger to the limousine business. Steve's uncle, Hy Levine (yes Levine with an "e" started Hy's Livery Service in Connecticut in 1952. As a teenager, Steve was employed by the company to do maintenance and cleanup of the vehicles. Steve graduated from the University of Connecticut with a Bachelors of Science Degree in Business Administration. Steve's professional background is operations management. He served as Chief Operations Officer for a manufacturer and distributor of industrial packaging, General Manager for a regional office of one of the largest fast food chains, and also worked for a luxury automobile dealership performing sales, computer training and other administrative functions.

Currently, Steve is serving on the Board of Directors for the San Diego Chapter of Meeting Professionals International as President-Elect. He has earned the designation of CMP (Certified Meeting Professional) by successfully passing the exam given by the Convention Industry Council.Steve has served on the Boards of the Greater California Livery Association, L.R. Green Educational Foundation and served as Chairman of the Murrieta Chamber of Commerce. As the President-Elect of SDMPI, Steve is very involved in the Meetings and Events Industry and has pioneered a system of collaborative manifest management using Google docs. This system increases customer service levels by involving both the transportation company and host hotels in awareness of group arrivals and departures through the use of real time updates to the manifest.
Steve has been awarded the SDMPI Outstanding Connector for representing the organization in the Hospitality Industry. He has also been awarded SDMPI Community Leader for excellent business practices and volunteerism in the community.
In addition, Steve is active with SITE (Society of Incentive Travel Excellence), HSMAI (Hotel Sales and Marketing Association International), the San Diego Tourism Authority and the San Diego Business Travel Association.
Heidi Slate Levin - Owner and Co-Founder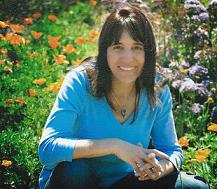 Heidi's background includes a Masters Degree in Social Work from the University of Southern California, with a specialization in Industry. Heidi serves as the Special Projects and Events Coordinator for Sterling Rose Transportation. Her expertise in corporate development is an invaluable resource to the Sterling Rose Transportation team.
Both Steve and Heidi are active members in the local community, as well as volunteering a great deal of time with their children's schools. Heidi serves as the Board Chair for Center Stage Productions, a non-profit youth theater group based in Escondido where Heidi and Steve's sons, Matthew and Daniel can be found performing throughout the year. For more information visit www.centerstagesd.com Heidi has also served on the Board of Directors for Kids Included Together, a non-profit organization that brings together children with disabilities and children without disabilities in social and recreational programming. For more information regarding Kids Included Together, go to www.kitonline.org.
Wendy Adame - General Manager | Rudy Adame - Executive Chauffeur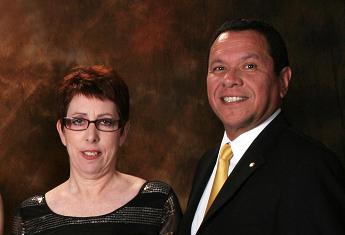 Working with Heidi and Steve is Wendy Adame, Steve's sister, who serves as Operations Manager. Wendy has over 30 years of retail sales management experience. Always priding herself on being a people person, Wendy's goal is to ensure Sterling Rose Transportation continues to provide customer service unrivaled by any other limousine company in the valley. Wendy is a graduate of the University of Bridgeport with a Bachelor of Arts Degree in Fashion Merchandising.
Wendy's husband Rudy Adame is and Executive Chauffeur for Sterling Rose Transportation. Rudy has a background in advertising and media with extensive and diverse experience in both general market television and Spanish language television. Rudy brings years of corporate management expertise to the firm as well as four years of experience in the limousine industry in Los Angeles. He has a Bachelor of Arts degree in Radio/TV/Film from California State University-Long Beach. Rudy is also an active member of Temecula Rotary and BNI.